Welcome to St Mary's Parish
Subject to Final authorisation from the Diocese we expect to open The Church of the Annunciation, New Mills for Public Services from next Sunday 12th July – Halleluijia !! Private prayer openings will change from that day, to openings for prayer and Mass.The Church will open for a half hour before and after mass.
So that means Public Masses will now take place at 9-30 a.m. Sundays,4-30 p.m. Wednesdays,11-30 a.m. Fridays
Safety Restrictions are still in place (see below), and so everyone intending to attend mass needs to 'book a place'… (to ensure we have enough space, and note attendees, as required by Government)
We are limited as to how many people can be in church at any services (max 30 people!)
We will confirm and publish a number next week, which everyone will be able to ring, to reserve/book a place …
THE CHURCH OF THE ANNUNCIATION AT NEW MILLS IS NOW OPEN FOR PRIVATE PRAYER
Wednesdays 4pm to 6pm Fridays 11.00am to 01.00pm
1. Please keep 2 metres social distance when coming and going and in the church: check to ensure that you pass nobody in the porch.
2. As you come in and leave, please use the hand sanitiser provided.
3. Some seats are taped off to help us keep the required distance apart from one another. 4. Families/people from the same household do not need to observe social distancing amongst themselves and may sit/kneel together
5. There will be no toilet facilities available during your visit.
6. There is a maximum number of people allowed in at any one time, so you may have to wait outside until told you can come in.
7. Once in, please do not touch any statues, crucifixes, or other devotional objects.
Stewards will be present to make sure we are kept safe and follow the regulations.
Hopefully, St Mary's and St John Fisher will be open soon.
If you are in contact with any parishioners can you check that they are receiving regular emails from somebody in the parish or that they belong to one of the cascading 'Telephone Trees' so that they can keep abreast of what is going on.
We are a Catholic Community, spread over a wide area of the Goyt Valley at the gates of the picturesque Peak District, attached to the Catholic Diocese of Nottingham. There are two Churches in our combined community, with one Parish Priest covering both.
In normal times everyone is welcome to join us at any of our Services, or events, in New Mills or Marple Bridge.
This site contains a short description of most of our combined efforts to live the Gospel of Jesus Christ in the 21st Century.
For updates on our response to the coronavirus pandemic CLICK HERE
Our Churches
St Mary's Church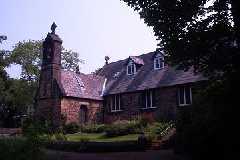 1 Hollins Lane, Marple Bridge,
Stockport
The Church of the Annunciation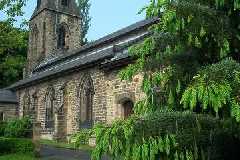 St. Mary's Road, New Mills, High Peak, Derbyshire