Welcome to St Mary's Parish
CHRISTIAN UNITY WEEK EVENTS DETAILS IN FR DANIEL'S LETTER
Parish Census forms are available at the back of church or by clicking HERE. It would be good if all parishioners fill in one of these forms and return it to the church or presbytery, so that we have an up-to-date record, compliant with data protection regulations. Please do pass one on to anybody who you think might want one. Many thanks.
Pope Francis is asking all parishes to make their community sustainable in the spirit of the integral ecology set out in Laudato Si. Our Bishop has launched a campaign to respond to this call. CLICK HERE to find our more about our own parish plan for this vital matter.
CURRENT CHURCH PROCEDURES FOR PUBLIC MASS
Face coverings are once again compulsory in our churches under Government law.
The booking systems will be abolished. The capacity will not be limited, although there should be enough room for people to have space around them.
The one-way systems will be abolished. But please take care when moving round church.
People should check in with the QR code if possible. Otherwise you may check in with your name and contact number at the back of church.
These measures will be kept under review as things progress.

GETTING TO KNOW PARISHONERS:In the present circumstances it is an unusual time to have moved into a parish. Presumably under normal circumstances we would have hadsomesort of informal gathering (with buffet, of course!) I am conscious that although I have met many of you in my time 'covering' the churches, it is not the same as being 'parochial administrator'. If anybody would like a visit, or would like to visit here for a chat, (these things dependingon whatever restrictions are in place), do give me a call. Similarly, if anybody would like a talk over the telephone, that would be fine, although please don't be offended if I have to defer it to another time! Also, many thanks for various cards and notes of welcome received.

We are a Catholic Community, spread over a wide area of the Goyt Valley at the gates of the picturesque Peak District, attached to the Catholic Diocese of Nottingham. There are two Churches in our combined community, with one Parish Priest covering both.
In normal times everyone is welcome to join us at any of our Services, or events, in New Mills or Marple Bridge.
This site contains a short description of most of our combined efforts to live the Gospel of Jesus Christ in the 21st Century.
For updates on our response to the coronavirus pandemic CLICK HERE
Our Churches
St Mary's Church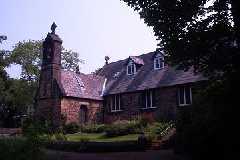 1 Hollins Lane, Marple Bridge,
Stockport
The Church of the Annunciation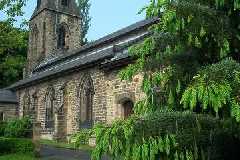 St. Mary's Road, New Mills, High Peak, Derbyshire